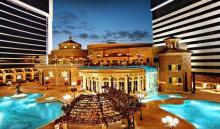 Since the beginning of 2013, the importance and volume of LIN Digital's web development business has increased tremendously. With data collection, build automation, project management software and Drupal, my team has cultivated a potent web development process that allows us to deliver quality sites and apps with excellence.
CMS Powered Sites
Utilizing Drupal was a no-brainer. It provides the first class features businesses expect in a website, with the flexibility and maintainability of a web-based CMS. Thanks to Drupal's large selection of open source modules for large and small projects, we were able to start on the 10th floor when first developing the company's web-based offerings.
Process Driven Development
Our web development projects always start with the needs of the client. When clearly defined, they are worked through design, implementation, approval and delivery phases, each of which is guided and enhanced by our team's proprietary toolset.
Future-proof Architecture
Drupal development harnesses the power of the open-source community, as well as known patterns and structures when custom features are necessary. This results in little to no duplication of work, extreme flexibility and easy maintenance.